BASIC ED MATH OLYMPIADS BAG AWARDS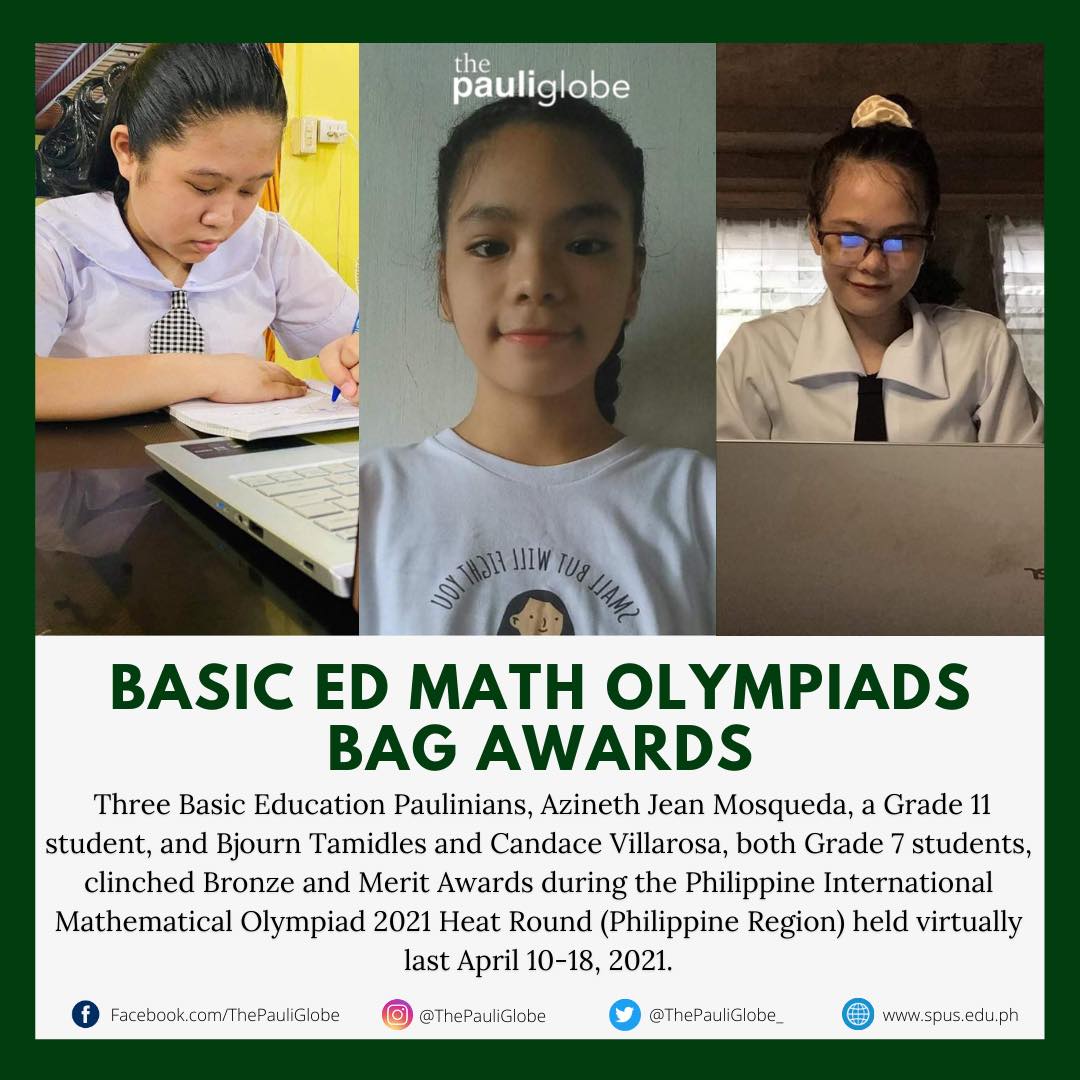 Three Basic Education Paulinians, Azineth Jean Mosqueda, a Grade 11 student, and Bjourn Tamidles and Candace Villarosa, both Grade 7 students, clinched Bronze and Merit Awards during the Philippine International Mathematical Olympiad 2021 Heat Round (Philippine Region) held virtually last April 10-18, 2021.
The Philippine International Mathematical Olympiad (PhIMO) is the newest and most sophisticated international Mathematics competition among Kindergarten to Grade 12 students.
?Bronze medalist Azineth Mosqueda said she felt happy, amazed and proud that she was able to fulfill one of her greatest dreams – to win in the most prestigious Mathematics competition in the world. Azineth trained and gained knowledge by joining the weekly Virtual Topic Appropriate Mathematics Program and Simulation (VTAMPS) sessions, a student-centered virtual mathematics training which is geared towards specific topics and technology-based discussions by competent and top-caliber trainers.
PhIMO aims to honor and reward mathematical talents to serve as models of global citizens.
Grade 7 Bjourn Tamidles, bronze medalist, emphasized the great contribution of learning Math to her as a student, "we should continue our adventures with Mathematics because we can gain many benefits from it and we will be able to apply our learning in our daily lives."
The PhIMO is designed to gather and recognize the best learners in the world in mathematical problem-solving through friendly competition and foster cultural exchange among countries that participate therein.
Mosqueda, Tamidles and Villarosa were trained by their respective Math teachers and Mr. Alcher J. Arpilleda, the High School Subject Team Leader for Mathematics.